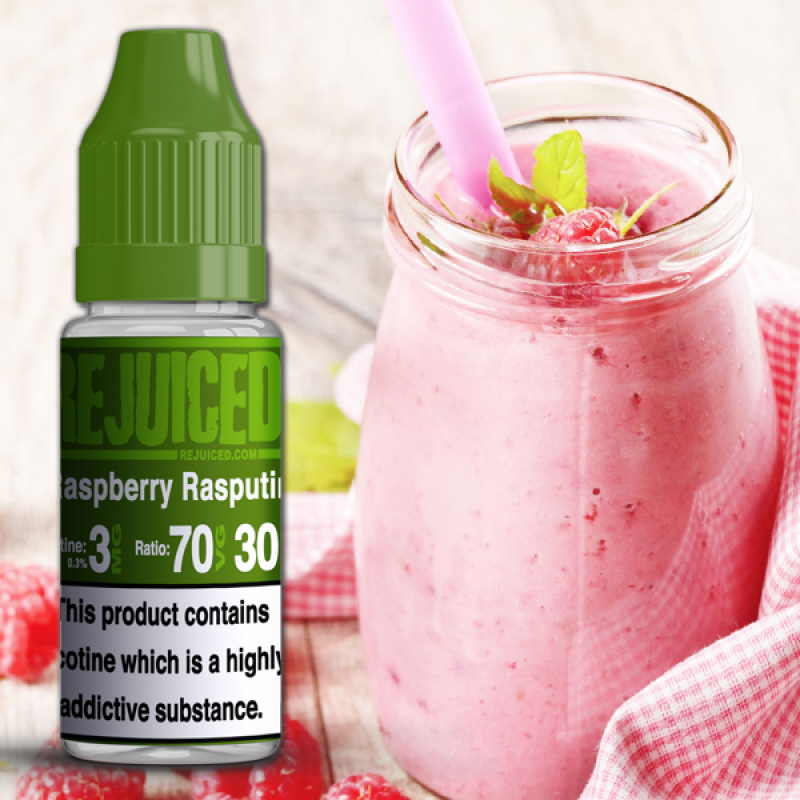 Raspberry Rasputin
A smooth an authentic Raspberry, that's not drowned in artificial sweeteners.


Coil Kind - Naturally sweet, no added sweetener.
Flavour Profile :
FruityRaspberry
Rating :

4.8

91 reviews

Brand :
REJUICED Eliquid
Origin :
UK
Coil Friendly :
Bottle :
10ml Easy squeeze bottles with child resistant caps.
Steeping :
Ready to vape (Pre-Steeped).
Nicotine Options :
TPD :
TPD Compliant
Toxicology Report :
This product does not contain Diacetyl, Acetyl Propionyl or Acetoin.
VG/PG Blend :
Manufactured :
UK Certified ISO7 Cleanroom.
Sort by :

Most Helpful

|

Newest
14/06/2017

Verified




I usually go for fruit flavours as there is a good variation and I don't find they get to sickly or cloying like other flavours can be. I bought this not really knowing what to expect as single flavours can be a bit boring and 1 dimensional, this tastes exactly like the raspberry maoam stripe sweets made by haribo which happens to be the one I like the most, very happy will definitely be ordering again.

16 people found this helpful, Was this helpful to you?
---
25/08/2016

Verified




I ordered this back when it was the juice of the week at the end of July, after a weeks steeping it was really nice......after a couple of weeks it was lovely.........just put it in today after a month and it's GORGEOUS!!!! By far the best raspberry going will definitely be ordering again

16 people found this helpful, Was this helpful to you?
---
26/07/2016

Verified




Awesome. I first heard about rejuiced from a freind who let me try some of his rasberry rasputin it was the most realistic rasberry I have ever vaped not long after that I was on the website looking for my own taste of heaven. What made it even sweeter it was on the deal of the week so pick up 120ml at the lowers price I have ever paid. I also order the sample pack to try more only received the order this morning and have gone through alot of them already and have to say what a fantastic job rejuiced team have done. Keep up the good work and I will order more very soon. Thanks rejuiced

13 people found this helpful, Was this helpful to you?
---
18/11/2017

Verified






Thought Id do another review on this Juice as I've been vaping Raspberry Rasputin for nearly 2 years now and in my opinion is the best flavour as I have tried quite a lot of different ones which are good but none have a looking when it comes to this I bought some ice ice baby the other week to try and I have found myself adding a little to the Raspberry Rasputin which has made it amazing I would like to thank everyone at team Rejuiced for an outstanding service and first class products

11 people found this helpful, Was this helpful to you?
---
27/01/2017

Verified




Excellent raspberry flavour, very authentic taste

11 people found this helpful, Was this helpful to you?
---
06/03/2016

Verified




Okay so I know I said yesterday that busta lime is gunna be my new all day but scrap that... So I changed the coil in my tank filled it with rasp and set off after about half a tanks worth the true flavour of raspberry came through and all I can say is jheeezus rejuiced have wrote the bible on flavour its smother then Michael jacksons criminal and taste like i've been hit in the tastebuds with a delicate raspberry blast now this is a alldayvape think when I reorder I'll be getting 120ml the flavour I have been religiously vaping before I tried this has just had its formula changed and isn't what it used to be but this is a perfect replacement youll deffinatly be getting a consistent custom from me thank you rejuiced one more thing to add is even the bottles are the best quality I've had keep it up guys your service is 100% Jheeze this flavours a fountain of love in my mouth

11 people found this helpful, Was this helpful to you?
---
08/02/2016

Verified




I really love the way that this flavour tastes like I've just eaten a raspberry, an excellent all day vape + my tfv4 coil still going strong after 5 weeks, rejuiced liquids don't seem to gunk up coils like other juices do. And the other positive is my wife really likes the smell when I'm vaping on it, because she normally hates me vaping around her because she doesn't like the smell, so happy days.

9 people found this helpful, Was this helpful to you?
---
26/07/2016

Verified




Second juice I have tried from you guys.Being the inpatient person I am tried on day of delivery nice flavour got sweetness and subtle raspberry flavour.Let it steep for a week with a little shake now and then and wow sweet raspberry full flavour.Bought 120ml as juice of the week last week and am happy I did.This is 1 I will keep in stock.Great flavour and smooth thick clouds that smell lush.

7 people found this helpful, Was this helpful to you?
---
Write a review
Optional : Upload a photo of your order
View all our eLiquids
View our best selling eLiquids